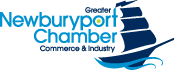 September 27, 2016
We hope that you are gearing up for an outstanding October! The Chamber is hard at work gearing up for a solid and successful 4th quarter for our members and the Chamber. I have a couple of questions for you today?
First - Do you want to get the word out about your latest business news? Has someone joined your organization? Are you celebrating some new venture? Are you planning an event? Well the Chamber wants to know! Every day we receive press releases from many members sharing their important news. We want to share more of that news with all of our followers on social media, our newsletter readers and the communities we serve at large. It's easy, just add us to your communication list and we will share your news! Please send us information, press releases and the alike to
info@newburyportchamber.org
and we will spread the word!
Click here
to see what other members are sharing.
Second - Did you know that the Chamber offers free job postings on our website? The
job postings page
gets more than 1200 hits a month from job seekers. Why not send us your open job postings? You may never know when the right person for your organization will be on the Chamber's website. Please send your job postings to
info@newburyportchamber.org
or use your
member login
to post yourself. Don't delay do it today!
Ann Ormond, President
Greater Newburyport Chamber of Commerce & Industry