The Greater Newburyport Chamber of Commerce & Industry leads our community toward sustainable economic growth, advocates a pro-business climate for our members, builds upon the area's educational foundations, and establishes and executes the communities vision to improve the quality of life.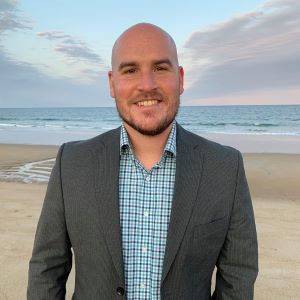 Nate is currently the point person at the chamber for new member development, marketing, and making sure Greater Newburyport business owners are happy and thriving! Prior to joining the chamber, Nate served as Director of Marketing, Taproom & Events for True North Ale Company in Ipswich, MA. He earned a bachelor's degree in Marketing and…
Kenneth Adams Jr., Adams Imaging Systems
Kathy Aiello, Atlantic Hospitality Group
Frank Bertolino, North Shore Realty Group
Lisa Burke, Farley's of Newburyport
Jeff Christensen, The Cottage Plum Island
Mary Anne Clancy, Institution for Savings
Bill Butler Clary, PHYCO2 LLC
George Carey, Sea Level Oyster Bar
Pat Cannon, Beach Plum Flower Shop
Suzanne Dubus, Jeanne Geiger Crisis Center, Inc.
Ginny Eramo, INTERLOCKS
Taunya Wolfe Finn CTP, Wolfe Adventures & Tours
Rebecca Fortado, Salem 5
Robert Jones, Newburyport Bank
Sarah McCartney, Clipper Family Chiropractic
Jeff Nahas, Barking Dog Bar & Grill
Bill Nichelmann, The Grog
Tom Nicholson, Finneran & Nicholson, P.C
Chris McIntosh, Northshore Magazine
Rich Ryan, Business Performance Advisor
Christopher Skiba, Newburyport Development
Kelley Sullivan, Anna Jaques Hospital
Michael Trotta, Crystal Engineering Co.
Chair: Taunya Wolfe Finn
Treasurer: Michael Trotta
Clerk: Richard Ryan
At Large: Suzanne Dubus
Vice Chair: Kathy Aiello
Vice Chair: George Carey
Vice Chair: Ginny Eramo
Interim President: Nate Allard